FlashShield Design and Installation Certification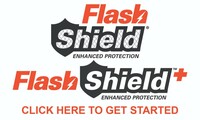 Welcome to FlashShield's Design and Installation Online Certification presented by Gastite.
This training process is intended for industry professionals who are looking to receive their FlashShield certification cards and not for homeowners making 'do-it-yourself' repairs.
When taking the course, please click the green Multimedia button in the upper left to start the slides and audio.
Please note, Internet Explorer is not a supported browser and it may cause issues when taking the course. We recommend using the latest versions Chrome, Firefox or Safari.
Thank you.